KNOW 26230: Death Panels – 
Exploring Dying and Death through Comics
---
Spring Quarter, 2020, Tuesdays and Thursdays 2-3:20 PM
Syllabus for Spring 2023 version of this course can be found here.
---
Office Hours:
 By appointment
Course hashtag:
#deathpanelsUofC20
---
Course Description:
What can comics contribute to the discourse on dying and death? What insights can comics provide into the experience of dying, death, caregiving, grieving, and memorialization? Can comics help us better understand our own wishes about the end of life? Death Panels: Exploring Dying and Death Through Comics is an interactive course designed to introduce students to the field of graphic medicine and explore how comics can be used as a mode of scholarly investigation into issues related to dying, death, and the end of life. Through didactics, discussion, and interactive activities, this course provides students with a unique interdisciplinary and creative opportunity to explore dying and death. 
This course will balance readings and discussion with creative drawing and comics-making assignments. This work is intended to provoke personal inquiry, self-reflection, and understanding about a range of topics relating to the end of life. Topics covered will include examining defining death, exploring how we die, euthanasia, rituals around dying and death, and grieving. The readings will primarily be drawn from a wide variety of graphic memoirs and comics, but will be supplemented with materials from a variety of multimedia sources including the biomedical literature, philosophy, cinema, podcasts, and the visual arts.
 Taught by a nurse-cartoonist and a physician, both of whom are active in the graphic medicine community and scholars of the health humanities, the course will primarily be taught from a biomedical and health humanities perspective. 
No prior knowledge or experience of graphic novels, comics, drawing, medicine, or death required. 
---
Course Objectives:
Develop an awareness of and appreciation for one's values and attitudes about the end of life

Appreciate the unique properties of comics to convey difficult and complex subject matter

Understand how the medium of comics can uniquely explore and  express end-of-life experiences, including caregiving, grief, and memorialization

Engage with drawing and the creation of comics as a self-reflective exercise
---
Course Materials and Readings: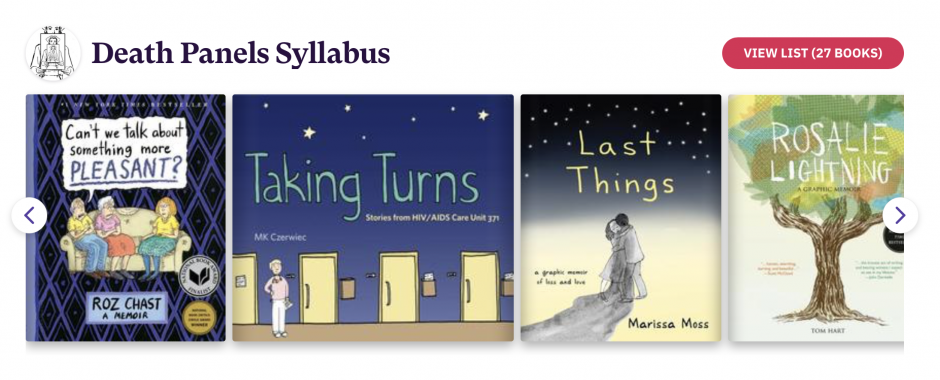 This course will explore end-of-life issues through a variety of media. While the primary focus will be on drawing and comics, supplemental articles, book chapters, and podcasts, academic and medical literature will also be used.
Students would also benefit from gathering some basic drawing supplies, such as crayons, markers, a black rollerball or felt-tip pen, and a sketchbook.
---
Student Resources
On maintaining stability during challenging times: Ch. 1 of Rock Steady by Ellen Forney
On remote learning: https://learningremotely.uchicago.edu
On graphic medicine
On drawing:
On making comics: 
Drawing Music: 
---
---
Potential Full-Text Readings:
Readings can be purchased from independent booksellers via Bookshop here. We will also post links to online versions if they are available.
---
---
Section One: Prior to Death
---
Class 1. Introductions: Why death? Why Graphic Medicine?
April 7
Short assignment following class:
1. Describe or draw your current attitude towards death. Consider what emotions are invoked by the thought of dying.
2. Create a short 4-6 panel comic that depicts the main influences that have contributed to your current death attitude. Consider social and cultural entities, as well as personal experiences. Think about how collectively these can be woven into a short narrative
---
Class 2. How We Die: Taxonomizing/Defining Death
April 9
Materials to prepare for class: 
Supplemental Readings:
Discussion questions for class: 
How do we reconcile differing biological definitions of death with cultural definitions and practices?
Should there be some flexibility in allowing individuals to choose their definition of death?
Potential problems from such an approach? What conflicts may arise?
Which definition of death do you personally embrace and why?
Follow-up links from Thursday's class discussion: 
---
Class 3. Life-extending Technologies 
April 14
In this class, we will start our discussion with the naturalness of death before turning our attention to how the process of dying and death have become increasingly medicalized. We will describe the nature and history of technologies available to address life-threatening disease/injury, including CPR, dialysis, artificial ventilation, artificial feeding, and ECMO. How these technologies and a medicalized approach to dying has affected individual, societal, and cultural attitudes about and approaches to dying will be discussed.
Discussion Questions for Class:
What is a natural death?
In what ways has dying and death been medicalized?
How have the medicalization of death and life-extension technologies altered our understanding of and approach to death?
What have been the benefits and drawbacks of the medicalization of death?
Required Readings:
Supplemental Readings:
---
Class 4. Advance Directives 
April 16
Readings:
A. The Conversation: 
B. The Forms: 
Supplemental materials (optional): 
---
Class 5. Ars Moriendi: The Art of Dying Well  
April 21
Teaching Points:
During this class, we will discuss the "art of dying well" and concepts of the "good" and "bad" death. We will do so by focusing on the broad historical context of these concepts before focusing on how modern medicine has redefined our attitudes about and understanding of these concepts.
Discussion Questions for Class:
Is there such a thing as a "good" death?
What might it mean to die the "good" death? The "bad" death? In what way might these concepts be useful? Harmful?
From a personal point-of-view, what do you consider a "good" death? A "bad" death? What do you consider essential features of each of these?
Readings:
Homework assignments:  – due via email or upload to dropbox link by class on Tuesday 4/21
Assignment #1: Advance Directives – read the comic and scroll down on the linked page for details of the assignment.
Assignment #2: In a multipanel (2-6 panels) comic, depict what you personally consider a "good" death. Think broadly about the various characteristics/attributes that contribute to that "good" death.
Assignment #3: In a multipanel (2-6 panels) comic, depict what you personally consider a "bad" death. Think broadly about the various characteristics/attributes that contribute to that "bad" death.
Follow-up from class discussion: 
Dr. Callender's slides on Are Moriendi and research on what makes a "good" death
"Who is The Good Death For?" special topics issue of Departures in Critical Qualitative Research, Fall 2021
---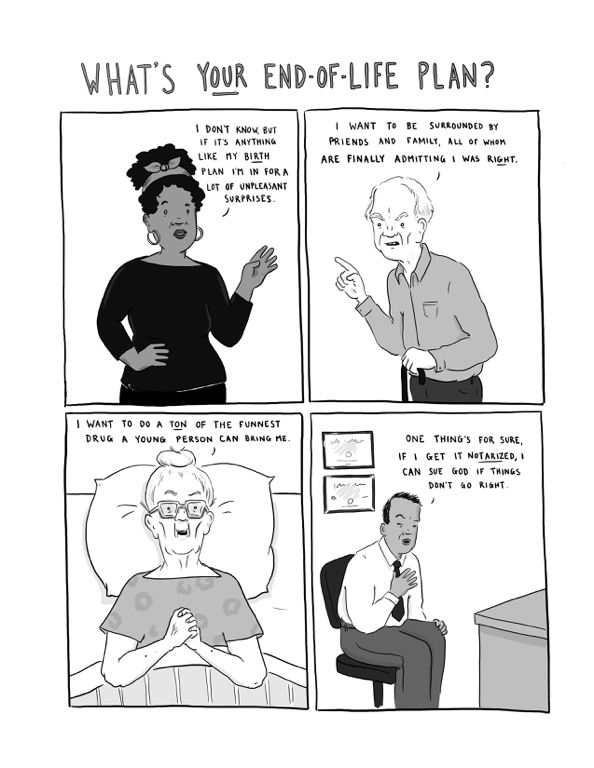 ---
Class 6. The Role of the Dying
April 23
Teaching Points:
In this class, we will explore the role of the dying person with regards to social and cultural expectations and duties. We will discuss the relationship that the dying have to the living and how this relationship defines the dying role, as we try to answer the questions: What should we expect from the dying? What should the dying expect from us? 
During this class we will be visited by a special guest, Marissa Moss, the author of Last Things: A Graphic Memoir of Loss and Love. 
Readings:
Assignments: 
Formulate 1-2 questions for Marissa Moss after reading Last Things.
Draw a panel "in the gutter" of Last Things: Imagine something that did happen or could have happened in this story but we don't see it, the action is  implied by the author. Draw that. It can be a quick sketch, even a single panel.
---
Class 7. Workshop
April 28
Weekend assignment:
Outline/sketch an imagined conversation with a loved one about end-of-life issues, with a focus on the questions you would ask.

Consider how to incorporate topics we've discussed in class, including definitions of death, advance directives and making one's wishes/preferences known, the good/bad death, and the dying role and how it affects one's other life roles. 

This is meant to be more of a thought exercise than a drawing exercise. 

This assignment does not need to be turned in by Tuesday's class, but have it prepared and ready for the 4/28 class. 

As this class is a workshop, have your drawings supplies readily available for class. This may be your charged iPad or tablet, or paper/sketchbook, pens, and coloring materials.

Submit, via email, the title of a song (or two) that we can add to a class drawing playlist. 
Class followup:
---
Section Two: Dying
---
Class 8. Epidemics
April 30
Teaching Points:
In this class, we will discuss how pandemics alter our attitudes about death and dying, with a particular focus on the Covid-19 pandemic. We will explore the burgeoning genre of covid-19 comics and analyze what they have to say about this moment.
Readings:
Caleb, Crain: Agit-Pop, The Story of the art collectives that created the iconography of a movement
Cheng, AY. Don't spit! Pandemic posters through the years. The Atlantic April 19, 2020. If you can't access online, here is the piece as a PDF.
Assignment #1 (due before class on April 30th; email assignment to MK and Brian):
Create a comic about your covid-19 pandemic experience. It  can focus on any aspect of what you are experiencing. Consider how you can use the medium of comics and color to explore space, time, and emotion.Length is up to you.
Assignment #2:
Review the Covid-19 comics being curated  on the Graphic Medicine website. Pick one comic from the collection that resonates with you. Be prepared to discuss your choice during class. Feel free to include comics that are Covid-19 related, for example in a creator's Instagram feed, that are not on the site but linked.
Class follow-up:
Brian's slides, "Covid-19 Pandemic: Effect on Dying and Death"
---
Class 9. Hospice & Palliative Care
May 5
Readings:
Assignment: Project proposal due
As the mid-term assignment, we want you to write up a proposal for your final project. For the final project, we want to give you the freedom to explore a topic of interest related to death, dying, and/or material covered in the course and the medium of comics. We want this to be a thoughtful and creative exploration of the topic through the use of and experimentation with the medium of comics, including use of panels, space, time, and color. Think of it as creating a final research paper in comic form. To that end, the mid-term assignment is to write up with supplemental sketches a proposal for your final project. The length of the writing should be about a page with another page or so for the sketched comic plan. The proposal should describe:
1) what topic you are choosing and why and
2) how you plan to use comics to explore and express the topic and include
3) a few rough thumbnail sketches of your comics plan
---
Class 10. Medical Aid in Dying and Suicide
May 7
Teaching Points:
In this class, we will continue the discussion from the previous class about autonomy and patient control at the end of life as we focus on the controversial practices of assisted dying (physician-assisted and voluntary active euthanasia). We will explore the arguments both for and against these practices within a broader bioethics framework that also takes into consideration individual choice and broader impacts on society.
Required Materials:
Supplemental Materials:
Euthanasia and assisted dying.Fontalis. J Royal Soc Med. 2018
Other Resources:
---
Class 11. The Moment of Death
May 12
Teaching Points:
In this class, we will take an in-depth look at key topics already presented as expressed in Czerwiec's Taking Turns.
Required Readings:
Czerwiec, MK. Taking Turns: Stories from HIV/AIDS Care Unit 371. Penn State University Press, 2017, available through the U of C Library.
Selwyn, PA. AIDS, the Modern Plague. In LS Dugdale (Ed.), Dying in the Twenty-First Century: Toward a New Ethical Framework for the Art of Dying Well. MIT Press, 2015.
Last Gasp comic, The Nib
Assignment:
Choose a page or series of panels in Taking Turns that most resonates with you and/or raises themes we have discussed in the class thus far. Make a short comic (anywhere from 2-4 panels) about your resonance with and/or reaction to that page. Put another way, imagine the assignment is to write a reaction to some part of the book, but do it as a short comic instead.
Class follow up:
---
Class 12: Bearing Witness to Death
May 14
Teaching points:
In this class we will consider the deathbed vigil, with our attention on those who surround the dying person. We will contemplate the practice of drawing the dying person during this vigil.
Readings: 
Supplemental Materials: 
Class follow up:
---
Class 13. Workshop: Death & Humor 
May 19
Teaching Points: In this workshops class, we will engage in drawing exercises and discussion exploring the types and roles of humor in communication about dying and death.
Homework: 
1. Review two articles:
2. Review
these comics
 and consider the role of the most common image-based personification of death, The Grim Reaper.
3. Sign on to class Tuesday prepared to share with the class your favorite example of humor that involves death. It could be a video from a movie or TV show, a song, a passage from a book, anything that comes to mind for you or that you find when you search on this topic. You will have up to three minutes to share, so try to figure out the most efficient and effective way to share (reading it or a summary, sharing an image, playing a clip, etc).
Draw the grim reaper:
| | | |
| --- | --- | --- |
| Student | First option | Second option |
| Danielle | Surfing with a shark | With a mean dog |
| Swathi | As a statue in a museum | As a farmer |
| Lauren | Eating fried chicken | With a Disney princess |
| Non | In the deep sea | At a hair salon |
| Louise | In a marching band | Driving a car |
| Max | Riding an insect | Building a house |
| Ana | Dancing with a potato | Painting a masterpiece |
| Hurston | As a tightrope walker | At a funeral |
| Counti | Running from a giant snowball | With their lawyer |
| Monica | Riding a bird | With their doctor |
| Tiffany | Climbing a rope | At a swimming pool |
| Wendy | As a fountain | Climbing a tree |
| Emily | Being abducted by an alien | At the car mechanic |
| Nicole | As a pirate | At a bar |
| Andrew | With three cats | Playing tennis |
| Claud | With a kid in a Halloween costume | With a horse |
| Ariel | On a desert island | Taling to an octopus |
| Siri | In a boxing match | Meditating |
Class Followup: 
Thesis Award deadline approaching
From Swathi: Call for comics, PULSE Magazine submission form and instructions.

Examples of death and humor discussed in class – and some not yet discussed:
---
Section Three: After Death
---
Class 14. The Dead Body/Rituals
May 21
Readings: 
Supplemental Materials (interesting but not required):
Class Followup Links: 
---
Class 15. Obituary & Memorialization
May 26
Required prep for class: 
Supplemental prep for class: 
Class Followup:
---
Class 16. Grief & Grieving
May 28
Homework assignment: Create a four panel comic obituary. The subject of the obituary can be of your choosing and/or creation. You can adapt an existing text-based obituary, you can fabricate one for a fictional character, or you can create one for someone you know who has died. The only parameters around this assignment are that it be four panels.
Required prep for class:
Supplemental prep for class:
Class followup:
---
Class 17: Wrap-up: What is death? Why do we care?
June 2
Class prep: Consider all the ground we have covered in this class. Write up your top 5 takeaways – they can be a bullet list or just simple sentences. Please submit that list of five to us before class on Tuesday. And then be ready to talk about at least three of those five in class on Tuesday.
Oh, and check out this comic.
Class followup:
---
Summary of Top 5 Class Takeaway topics (after preliminary review) 
---
Class 18: Student Final Projects
Danielle, "Speaking to the Dying and Dead"
Lauren, "Dying, Death, and the EMS"
Louise, "My Sister's Soul"
Tiffany, "Lost Things: A Story of Hyde Park"
Nicole, "Life/Death"
Claud, "21"
Emily, "Covid-19 in Minority Communities"
Swathi, "Talking About Death with Vimmo Paati"
Non "Space Death"
Hurston, "Bad v. Good Death"
Monica "Covid-19 Quarantine Diary"
Wendy, "The Corpse Shepherd"
---
Late Additions/New releases/To Read:
"How We Teach How We Die" by Emily Waples
The Death Class: A True Story About Life, Erica Hayasahi
Comics & Humor in Palliative Care: A Podcast with Nathan Gray
"Making Progress on Death Conference" video playlist
Dancing at the Pity Party by Tyler Feder
This is Assisted Dying by Stefanie Green
Headland by Kate Schneider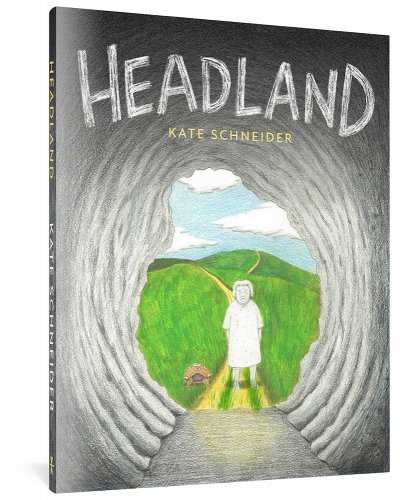 Interview with the creator here.
You Died: An Anthology of The Afterlife , edited by Andrea Purcell and Kel McDonald
Ronan and the Endless Sea of Stars