(Full disclosure: I've stolen that post title from one of my new favorite podcasts.)
It's been an amazing whirlwind of late spring/early summer book events and conferences followed by equally wonderful summer vacations. Since my last post, first up was the Toronto Comics Arts Festival. I did a full report for GraphicMedicine.org, and that can be found here.
Between travels I've also been posting occasionally on the HealthCetera blog, highlighting some amazing health care graphic journalism that has appeared on a daily web magazine called The Nib. My first post looked health policy comics, with a follow up post here. My third post highlighted how comics can have a vital place in health care research. I'm quite interested in how health care graphic journalism could expand, and how my work could be informed by a more journalistic approach. Being a Senior Fellow of the George Washington School of Nursing Center for Health Policy and Media Engagement is already offering me opportunities to explore this more fully.
In late May, Gallery Victor Armendariz in Chicago honored me with a book launch event. Victor recommended creating prints of images from the book for the event, and I am so grateful he did. Thanks to the quality of the printer he recommended, they turned out beautiful.
A very cool side benefit of the gallery event was the opportunity to meet legendary celebrity and world event photographer Art Shay. He was gracious and kind, and hearing him tell stories of taking some of his most famous photographs was a once-in-a-lifetime treat.
Bringing it all together, here is a photo of the photo Art Shay took of cartoonist R. Crumb in 1975.
Next up was the Chicago Alternative Comics Expo. The magnificent Mita Mahato was my table mate for two days and we had a BLAST. Like at TCAF, sold all the copies of Taking Turns I had on hand.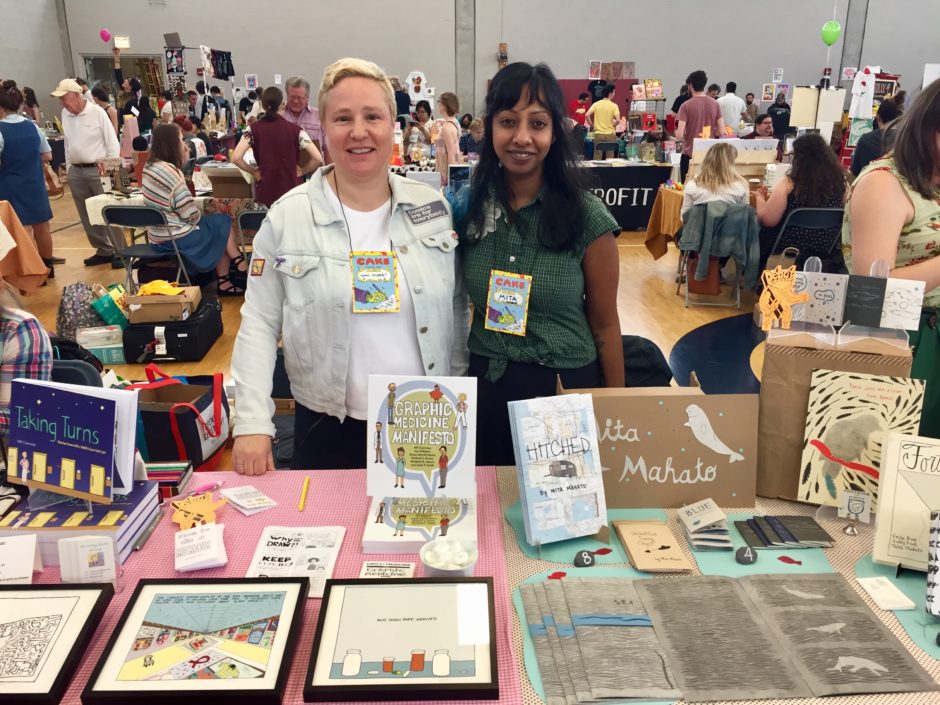 From there, Mita went home to Seattle and within days hosted the 2017 Graphic Medicine conference. It was more than I can describe here, but I'm going to hold off and give that amazing gathering it's own post very soon.