Some comics are destined to go on your Instagram, your Twitter, in an academic article, maybe even in a book someday. That is NOT this comic. This comic is intended to get you through something rough, whether it be a single day, a situation, an ongoing event, or a problem.
Here's how it works:  Bring to mind the the reason you came to the page, or on a scrap sheet of paper make a list of three things weighing on your mind/body and choose the one that you want to explore more.
Divide your page into four sections. You can draw four boxes, or just make a cross on the page. Don't worry about the size of the paper or whether it is oriented landscape or portrait.
In the first panel, write a single, concise sentence about what is on your mind. In the space below, draw something that comes to mind as you contemplate those words.
For the second panel, remember that the gutter (the space between panels) asks oral historian Studs Terkel's favorite question: "And then what?"
Answer that question in a small amount of text and image in the second panel.
Repeat that two more times.
Remember: this comic does not need to have a joke, or a resolution, it's just meant to explore what happens when you take your topic to the page.
This exercise can serve several purposes. It can help give you a new perspective on the topic you brought to the page. It might take you in surprising directions. But perhaps not. You may realize an issue is larger than you thought, but remember, that is of value too. At very least, doing this exercise will give something that is occupying your heart, mind, body a place to go, be explored, expanded, perhaps even give you a brief respite or insight.
I first used and named this exercise when I was taking care of two elderly relatives who were both living in unsafe conditions in their own homes, but refusing all help or even discussions of relocation. Every Tuesday I would go to the suburbs of Chicago and try to manage their untenable situations. I had to keep reminding myself that competent adults are allowed to make bad decisions. My only goal was to provide as much of a safety net as I could, and assure that they had essential food, fluids, medications, and company. It was terribly stressful to be worried about them as I tried to work two hours away, knowing at any moment they could be in crisis. I knew that eventually they would need to allow change, but at the same time I wanted to honor their right to self determination as long as I could. So every Wednesday morning I would make a comic like this one based on an event from the prior Tuesday with Elders.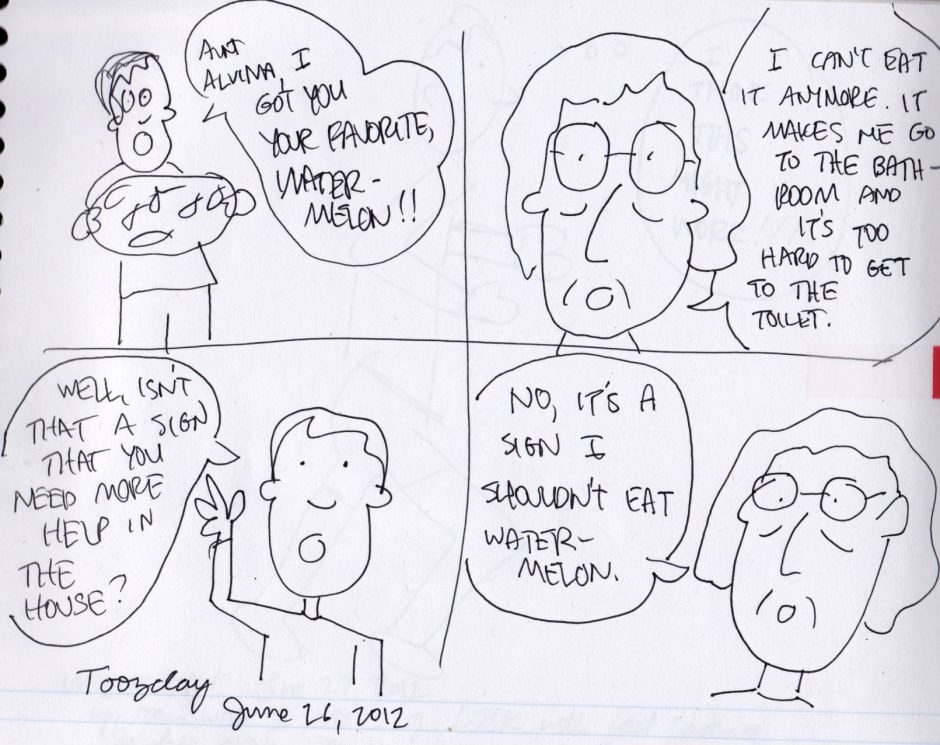 You can see from this image that I was not concerned about perspective, style, or anything other than capturing this moment as best I could. The incident was so urgent for me that I didn't even follow the usual instructions, I just drew the conversation as it transpired. This is not something I would normally share publicly, but it seems important to share visually how raw these comics are "allowed" to be.
As I look back on my sketchbooks from this time, I realize another reason to do this kind of comic in troubled times: they create a trail of breadcrumbs reminding you how you got to your current moment. Both these elderly family members have been gone for several years now. And I'm grateful to past me for making these comics, because otherwise moments like this would be lost to me today.